Discover more from GrowSF
It's time to fix San Francisco. Our leaders have failed at the basics: housing, transit, schools, and public safety. GrowSF pursues common sense solutions to create a San Francisco that works for everyone.
The GrowSF Report: IKEA comes to Market St
PLUS: Advocates demand compassionate solutions for homeless
What You Need To Know
Here's what happened around the city for the week of August 21, 2023:
- IKEA comes to Market St
- Advocates demand compassionate solutions for homeless
- Tracking SF's fentanyl overdoses
- Restaurant openings
- Asian-American representation: up or down?
- Bell Tower restaurant celebrates 30 years
IKEA comes to Market St
Hej! IKEA is finally here!
A huge crowd of IKEA fans lined up, starting at 5am (!), to be the very first customers to step foot inside the brand new IKEA near 6th & Market. We were there, too, and picked up a few things we've been procrastinating on (a new side table, smart plugs, and some shelving).
IKEA will bring some much-needed foot traffic (and security) to this troubled intersection. And we're really excited for some affordable and delicious meatballs in the neighborhood :)
Advocates demand compassionate solutions for homeless
Well over 100 people joined Mayor Breed, and Supervisors Joel Engardio, Rafael Mandelman, and Matt Dorsey to call on the Ninth Circuit Court of Appeals to lift the injunction against moving homeless people from tents into shelters, writes Annie Gaus in The Standard. In December of 2022, Judge Donna Ryu ordered San Francisco to stop moving people indoors due to a lawsuit brought by the "Coalition on Homelessness" against the city. This ruling left San Francisco with no choices but to leave people in tents and unsanitary living conditions.
Advocates who showed up at Wednesday's rally were about 8-to-1 in favor of ending the injunction, including many formerly homeless people, like the man pictured above. They were united in their demand that San Francisco be allowed to move people from tents to shelters.
The three-judge panel seemed to acknowledge that the injunction is causing problems for the city and the people SF is trying to help, but they have not yet lifted the injunction. It may take a few weeks or months before we have an answer.
Tracking SF's fentanyl overdoses
The Chronicle has just launched a visualization of the incredible toll the fentanyl overdose crisis is taking on SF and the nation, using data from the Stanford Lancet Commission and data from the Centers for Disease Control and Prevention. Overdoses, driven by synthetic opioids like fentanyl, are a national crisis that are actually "driving down the nation's life expectancy."
The piece shows overdose rates over time and by ethnicity with county-level granularity. Lest anyone think San Francisco suffers the fentanyl scourge alone, this demonstrates the truly national tragedy. In fact, the west coast was late to see fentanyl's rise. "In 2018, 90% of the synthetic opioid (primarily fentanyl) overdose deaths occurred in the 28 states east of the Mississippi River."
Sadly, our local government, like so many others, is now expected to solve a crisis far above its pay grade for which it does not have sufficient tools. And the tragedy continues.
We recommend giving the full report a read.
Restaurant openings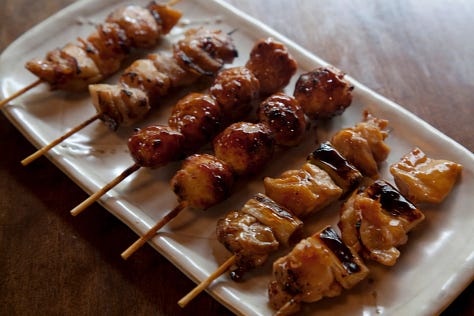 Change is the nature of any city, and in a competitive environment with lots of customers to satisfy, it's not always easy to stay afloat. But rising from the ashes of myriad closures are exciting new places to eat and drink! We're going to try to highlight new restaurants and bars every week, starting now!
A very exciting opening for fans of Yakitori: a local recreation of the famous Tokyo-based Edomasa, which closed in 2002. The original, century-old counter will even be part of the decor, the Standard reports. Look for it in Japantown this September.
Looking for a rooftop to soak in our warm temps? Look no further than the upcoming Chotto Matte, a Peruvian-Japanese restaurant set to open on top of the former Macy's near Union Square, writes Eater SF. Opening September 23.
Beer fans rejoice! The shuttered Mikkeller location on Mason & Market (right across from the new IKEA!) will soon be reborn by the team behind local favorite (and common after-work stop for City Hall insiders) Beer Hall. The new location will come with a full-service restaurant, too. Look for it this Fall!
Asian-American representation: up or down?
After peaking in the 2010s, the number of Asian American elected officials in San Francisco is going down. After the November 2024 election, it's possible that San Francisco will lose most Asian representation in its top offices, writes Han Li for The Standard.
But just because Asian Americans hold fewer elected seats doesn't mean their interests are not represented.
The power of San Francisco's Chinese voters has perhaps never been greater, as evidenced by Board of Education and Chesa Boudin recalls last year. As state Treasurer Fiona Ma argues, the City's Asian community now "vote[s] for values rather than race." Joel Engardio's support for public safety and the School Board recall reflected westside Chinese voters' concerns far better than the incumbent Chinese Supervisor he defeated. Chinese voters are increasingly putting values over identity. This is sign of a community's power, not the lack thereof.
Bell Tower restaurant celebrates 30 years
It's not every day a hometown favorite celebrates 30 years of business, but The Bell Tower just celebrated just that! To celebrate, the owner, Barbi Tice, "got a permit to close Jackson Street, between Larkin and Polk, had a stage built and hired three bands. Admission was $25 to any of four charities," writes Sam Whiting at The Chronicle.
We love seeing small businesses succeed, especially given our city's current struggles. Here's to The Bell Tower, and here's to 30 more years! 🍻
---
Love the GrowSF Report? Share it
Help GrowSF grow! Share our newsletter with your friends. The bigger we are, the better San Francisco will be.
---
The Spirit of San Francisco
There's a lot to love about our city and the Bay Area. Here's what makes it great. Brought to you by The Bold Italic.
What we're doing this week
$4 films on 2nd-annual National Cinema Day
It is the second-annual National Cinema Day on August 27th, meaning you can see films at participating theaters for just $4, along with super cheap deals on popcorn and soda. Confirmed theaters in San Francisco include any Regal, Cinemark, or AMC Cinemas. Search for a nearby participating theater.
North Beach First Friday Art Crawl
North Beach First Fridays' mission is to activate, promote, and support the visual artists, art galleries and merchants of San Francisco's North Beach community. On the first Friday of every month, over a dozen North Beach galleries, museums, bars, and restaurants stay open late for a self-guided crawl with special events to showcase the ever-growing collections of art and entertainment that diversify North Beach.
The next art crawl is Friday, September 1st from 5 p.m. to 9 p.m.
What we're writing about
Why I'm breaking up with Burning Man
"As I've done nearly every August since I moved to San Francisco, I'm once again headed out to the playa this week, but with one important difference: this will probably be my last time. Burning Man is actually still pretty freaking awesome, and I love it, but this bish needs a break." Adriana Roberts describes why she needs to step away from Burning Man after 30 years.
Where to eat with your family in San Francisco
Whether you're going out with your own kids, friends with kids or taking out local niece and nephews as I do, you don't want to compromise what you eat. And you shouldn't ever have to in San Francisco.
There is no end to the wealth of food education one can casually participate in with children while eating heartwarming, fun meals. Covering a range of cuisines from Korean to Cajun — across neighborhoods — here are eight places you may not initially think of as kid-friendly.
San Francisco Circus Center helps students tumble and fly
Nestled in an old church building, its graying yellow facade prominent to passers-by, across the street from Golden Gate Park is where such trapeze, acrobatics and even aerial routines take place. This is the home of Circus Center: a school for students of all ages who are interested in circus arts or are simply interested in staying in shape.
---
Want more positive news? Subscribe to The Bold Italic
Get some good vibes in your life by subscribing to The Bold Italic. It's the sister project to GrowSF which focuses on what makes San Francisco a great place to live.