Discover more from GrowSF
It's time to fix San Francisco. Our leaders have failed at the basics: housing, transit, schools, and public safety. GrowSF pursues common sense solutions to create a San Francisco that works for everyone.
The GrowSF Report: Hayes Valley's restaurant revival
PLUS: Amazon tax doesn't tax Amazon
What You Need To Know
Here's what happened around the city for the week of August 15, 2022:
- Hayes Valley's restaurant revival
- Proposition I could cost the city $80 million
- Backers of small business tax ("Amazon tax") withdraw support
- How can it take nearly a decade to build one apartment building?
- What do SF city employees get paid?
Hayes Valley's restaurant revival
Hayes Valley is in the midst of a restaurant revival! Hazie's debuted last weekend on the corner of Hayes & Octavia. Rad Radish, a new vegan restaurant, opened this week just down the street at Hayes & Franklin. And that's not all—Burma Love will be expanding into Hayes Valley at Gough & Grove. Nearly every restaurant and retail space that shuttered in the pandemic has come back to life. It's great to see such a recovery!
Proposition I could cost the city $80 million
Proposition I, which will shut down both JFK Drive Park and the Great Highway weekend park, also requires the city change its plans to decommission a troubled stretch of highway (which is slowly sinking into the sea). The City would need to spend at least $80 million on a 20 year long project to shore up the bit of road.
Lose two parks and spend $80 million on a crumbling road? No thanks! We'll be voting No on Prop I this November.
Backers of small business tax withdraw support
A new business tax on the ballot this November was designed to hit e-commerce retailers like Amazon, but it was so poorly researched and poorly written that Amazon is actually exempt!
If passed, the so called "Amazon Tax" will actually hurt hundreds of small businesses in the city, at a time when businesses are struggling to survive. The proponents have backed away from the measure, but it can't be removed from the ballot. Make sure to vote NO on Prop K.
Who put this on the ballot? TODCO, an affordable housing "developer" that hasn't actually built any homes since the 70s 🤯. They spent $500k of non profit funds to get this on the ballot. Instead of spending tax dollars on much needed housing, they're using it to play politics.
How can it take nearly a decade to build one apartment building?
San Francisco has a dire housing shortage for many reasons. Among them are our lengthy and byzantine permitting processes that force homebuilders back to the drawing board dozens of times. The CEO of Habitat for Humanity Greater San Francisco, Maureen Sedonaen, and the Executive Director of Affordable housing developer Mission Housing, Sam Moss, wrote about this broken system this week, and implored voters to vote Yes on Prop D.
Right now, it takes four to seven years (yes, years) to get any housing project approved in The City. Note that's the approval process alone; nothing has been built. […] All of this adds up to unpredictable delays, further driving up the already-high construction costs and exacerbating our city's shortage of affordable homes.

This is why we strongly support Mayor London Breed's Affordable Homes Now measure.[…[ Affordable Homes Now will speed up the approval process for 100% affordable housing, teacher housing and mixed-income housing
Our city's future depends on building more housing, so let's build! Vote Yes on Prop D this November to make it happen.
What do SF city employees get paid?
San Francisco has a workforce in the tens of thousands, paid an average salary near $127,000. S.F.'s highest paid employee makes $600K, while our lowest earns about $36,000. Check out the Chronicle's interactive tool and find out how much your most loved (or hated) city official rakes in.
---
Your Action Plan
Now that you know what's happening, help us shape what happens next:
Campaign kickoffs - Prop D: Affordable Homes Now and Prop J: Safe Parks for All
Prop D: Join us for the Affordable Homes Now campaign kickoff!
WHEN
this Saturday, August 20th - 10:00am-12:00pm
WHERE
Duboce Park - 5 Steiner St.
Prop J: Campaign to keep the car-free JFK Promenade with Safe Parks for All kickoff
WHEN
next Saturday, August 27th - 10:00am-12:00pm
WHERE
JFK Promenade by the Conservatory of Flowers
Join a neighborhood trash cleanup
Want to cleanup your neighborhood? Join one of this week's "Refuse Refuse" neighborhood trash cleanups—including a Star Wars themed cleanup in a Galaxy Far Far Away (spoiler, it's in Potrero).
---
Celebrate San Francisco
There's a lot to love about our city. Here's what makes it great:
Jazz & Blues Festival on Fillmore
Enjoy Jazz & Blues in the Western Addition! Live performances, food vendors, retails vendors and a kids zone will span 4 city blocks this Saturday.
WHEN
Saturday, August 20th - 11:00am-6:00pm
WHERE
Fillmore & Geary
Enjoy car-free Folsom this Sunday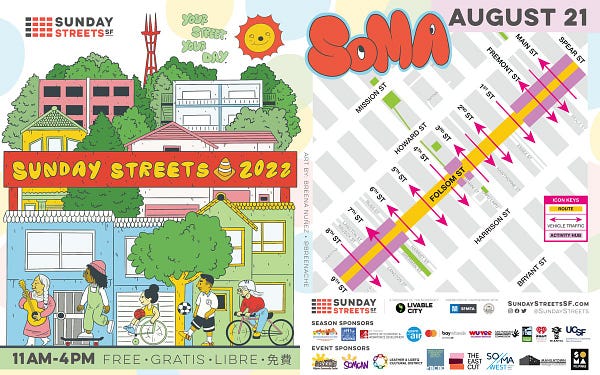 WHEN
Sunday, August 21st - 11:00am-4:00pm
WHERE
Folsom Street between 9th and Spear St
BART celebrates 50 years in service
suldrew 🏳️‍🌈 YES on D,J,L,N; NO on E,I 🚲
@suldrew
50% for 50! @SFBART https://t.co/NHAeXKbfwU
For an official history of BART and fabulous photos of BART employees from the '70s, check out the official BART website.
---
Love the GrowSF Report? Share it
Help GrowSF grow! Share our newsletter with your friends. The bigger we are, the better San Francisco will be.
---
Topical Tweets
Yes, there is good stuff on Twitter. Here's some of it: