Discover more from GrowSF
It's time to fix San Francisco. Our leaders have failed at the basics: housing, transit, schools, and public safety. GrowSF pursues common sense solutions to create a San Francisco that works for everyone.
The GrowSF Report: State delivers transit funding, avoiding shut down
PLUS: SF job market strong, despite downtown struggles
What You Need To Know
Here's what happened around the city for the week of June 12, 2023:
- State delivers transit funding, avoiding shut down
- SF job market strong, despite downtown struggles
- Westfield mall shutting down
- Supervisor Engardio is bringing a Taiwan-style "night market" to the Sunset
- Mayor Breed, Supervisor Preston go head-to-head
- This year, SF permitted just 8 homes per month
State delivers transit funding, avoiding shut down
Besides the the downtown "doom loop" that has been dominating local headlines, the SF and the Bay Area also face a transit "death spiral". With fewer people working downtown, the most sluggish return-to-office in the country, and with street conditions continuing to worsen, fewer and fewer people are riding transit. State lawmakers noticed and recently introduced a budget that would have slashed funding for public transit. According to Muni and BART, these budget cuts would force them to shut down dozens of lines and reduce service levels.
But now, reports Ricardo Cano in the SF Chronicle, this doomsday scenario will be avoided. Thanks to transit advocates, the state restored over $1 billion back to transit agencies to ensure they can keep operating.
We're happy that public transit will remain in operation, but this crisis highlights the need for drastic reforms at every level of government. Public transit operators need to restore the basics of good service on buses and trains: zero tolerance for people doing drugs or using it as a de-facto homeless shelter, zero tolerance for violence and mayhem, clean bus stops, stations, buses, and trains, ensuring people pay their fares, and arriving on time. A bustling downtown depends on great public transit, but we're currently stuck with neither.
SF job market strong, despite downtown struggles
Doom loops and death spirals aside, business in the Bay Area is booming…at least in the tech sector, writes Adriana Rezal for the SF Chronicle. The most recent data shows 8,000 more people were employed in SF as of April this year, relative to a year ago. This increase was in spite of a declining population (down by by about 70K).
A review of data by industry, comparing 2019 vs. 2023, shows that tech jobs fared especially well, presumably because people in those roles can more easily work remotely. Leisure and hospitality jobs did much less well, reflecting a downturn in tourism and business travel.
The tech industry has enriched San Francisco, quite literally, for over a decade now. We cannot take the industry for granted, and must do what we can to keep those jobs in SF, and to also diversify the types of roles available in the city. Making our streets safer and cleaner will go a long way to bringing back retail, tourism and other industries that have been hit hard over the last few years.
Westfield mall shutting down
Westfield mall in downtown SF has been operating for more than 20 years, but that is now coming to an end. Westfield blamed "unsafe conditions" and a "lack of enforcement against rampant criminal activity" as a primary reason for anchor tenant Nordstrom leaving the mall, which in turn caused Westfield to give up the location, writes Roland Li at the SF Chronicle. Following Nordstrom's departure, only 55% of the building would be leased, in comparison to the 93% average for Westfield properties worldwide.
While it's true that Westfield had indicated that it planned to exit its U.S. mall properties, their timeline in SF was accelerated by the total lack of safety and law enforcement that tenants and shoppers experienced. City officials must act quickly - and think creatively - on how they can repurpose the space, and bring life back to this critical part of San Francisco.
Supervisor Engardio is bringing a Taiwan-style "night market" to the Sunset
It will take creativity, determination and optimism to address the issues that San Francisco faces, but thankfully new District 4 Supervisor Joel Engardio is bringing all of this to the table, as he seeks to rewrite the narrative and bring joy to his district (and the city as a whole)!
Inspired by a trip to Taiwan visit his husband's family, Supervisor Engardio is working to bring a night market to the Sunset, writes Elena Kadvany in the SF Chronicle. The first one is currently planned for September 15th from 5 to 10 PM PST.
In working to make this happen, Supervisor Engardio has been facing red tape and road blocks (some literal) from both city and state officials and agencies. But through his dogged determination, he has been able to overcome those and bring a fun event to the community! We will work to support him in this, and many other, initiatives.
Mayor Breed, Supervisor Preston go head-to-head
Mayor Breed has had enough of Dean Preston's bullshit. Last Tuesday, Mayor London Breed and Supervisor Preston got into a tiff regarding the Mayor's new directive to arrest people who are using fentanyl openly on the street and refusing offers for treatment & services.
Mallory Moench describes the scene in the SF Chronicle, with Supervisor Preston calling Mayor Breed a racist and claiming that arresting users doesn't help them. The Mayor's response didn't mince words:
"Here we go, another white man who's talking about Black and brown people as if you're the savior of those people and you speak for them," said Breed, the city's first female Black mayor.
You can watch the exchange on Twitter.
Despite Preston's objections, it is clear to anyone with eyes and a heart that letting people die on the streets from addiction isn't humane. When people refuse drug treatment and medical care while their limbs rot and they die from overdose on our streets, what choice does a compassionate society have but to force them into detox and treatment?
Editor's note: This misery isn't restricted just to San Francisco residents: of the 45 people arrested for drug abuse in the last two weeks, only 3 were from SF, the rest were drug tourists from out of town
This year, SF permitted just 8 homes per month
San Francisco real estate development is in a weird spot. While San Francisco has been tasked by the State with accommodating at least 82,000 new homes, the million bureaucratic barriers to building housing, slowing demand, and high construction costs are all combining into a perfect storm of total gridlock.
Just 8 new homes have been permitted each month in 2023, writes Marcus White in the Examiner. This is far below the 854 per month required to meet our growth goals.
If San Francisco government can't repeal the laws blocking housing, we will forfeit local control of land use to the State in about five years. Better get building.
---
Love the GrowSF Report? Share it
Help GrowSF grow! Share our newsletter with your friends. The bigger we are, the better San Francisco will be.
---
Your Action Plan
Now that you know what's happening, help us shape what happens next:
Support "Housing for All"
Mayor London Breed, Supervisor Joel Engardio, and Supervisor Matt Dorsey have just introduced a pivotal piece of pro-housing legislation that would go a long way toward making it faster + easier to create the 82,000 critically-needed new homes SF is required to build over the next eight years.
Please express your thanks to Mayor Breed and Supervisors Engardio and Dorsey for leading on this essential effort to make it faster + easier to build new homes for residents of all income levels.
---
The Spirit of San Francisco
There's a lot to love about our city and the Bay Area. Here's what makes it great. Brought to you by The Bold Italic.
What we're doing
Streetcar Happy Hour with The Bold Italic
Join The Bold Italic on an old-fashioned streetcar for cocktails, conversations, and sights of San Francisco. We're going to take a ride and sip delicious drinks prepared by Rye on the Road and more!

WHEN: June 29th 6:30 p.m. - 8 p.m.
WHERE: We begin at & return to 17th & Castro
2023 San Francisco succulent show & plant sale
Did you know there was a succulent society in San Francisco? We didn't. But this looks fun, and it's free to attend. Nearly 50 plant vendors selling unusual species of succulents & cacti you can't buy at stores. Expanded hand-made pottery selection with 5+ new and returning vendors.
WHEN: June 16th-18th, 2023. 10 a.m. to 5 p.m.
WHERE: 9th Ave. & Lincoln Way: The San Francisco County Fair Building at the southern edge of Golden Gate Park
What we're writing about
Can San Francisco handle another Prohibition-era bar?
On the heels of Dawn Club comes The Harlequin, the latest in 1920s-esque cocktail lounges that have opened in SoMa in recent weeks. It seems the Roaring Twenties are back, as we currently hop along in the 2020s. This new space is sure to attract convention-goers from Moscone Center, and the din of Market's happy-hour foot traffic is already starting to bustle back to pre-lockdown levels. We checked out its soft opening.
Minimalist-but-lush fine dining at SF's new Kiln
Did we need another fine dining, tasting menu-only restaurant? "Need" is maybe the wrong choice of words. With the arrival of Kiln, just open May 16th, 2023, in Hayes Valley in the former Cala space, we have yet another upscale restaurant that already exemplifies why San Francisco easily offers the U.S.' best fine dining, but is also a global player.
Off-Broadway dancers bare it all in San Francisco
As dancers glided in a circle, arms outstretched, there was a sudden and enormous applause from fellow performers as they suddenly grabbed at their clothing and ripped away pants and shirts. Bare-chested with naked legs, they gleefully bopped and prowled the floor with large grins on their faces. This is Broadway Bares, a fundraising dance show with stripping. The troupe comes back tonight, and we got to see its final dress rehearsal this week.
What we're celebrating
We love Rich Table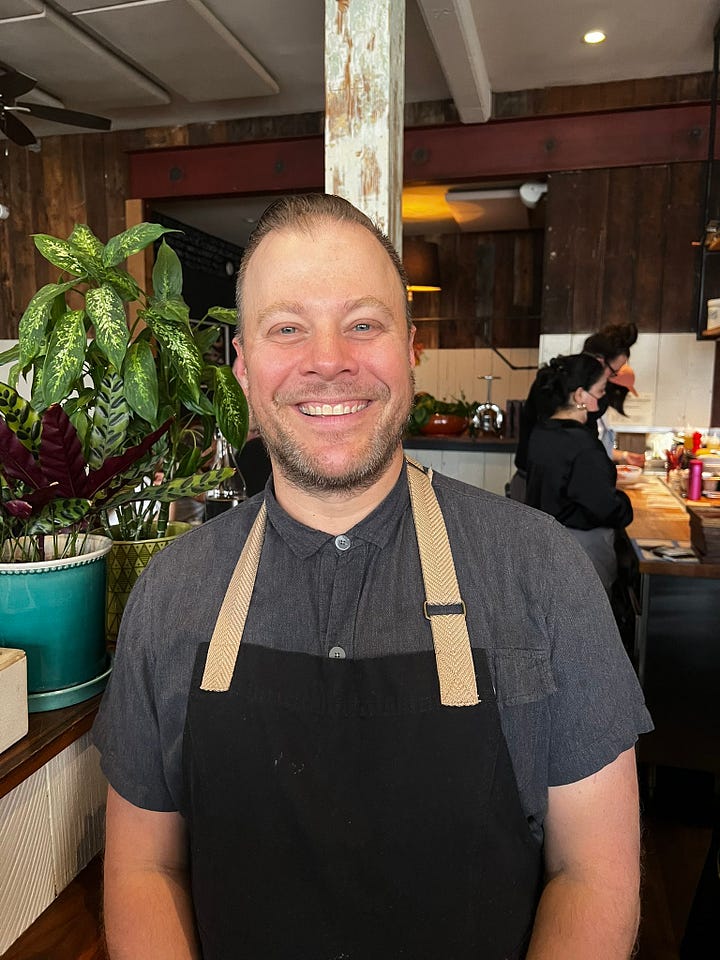 The food in San Francisco is incredible. This week we visited Rich Table in Hayes Valley and spoke to owner Evan Rich. Don't miss the porcini doughnuts, toro milk toast, garam masala arancinis, uni pasta, or Szechuan pork schnitzel. This throwback in The Bold Italic provides a nice look at all that Rich Table has to offer.
---
Want more positive news? Subscribe to The Bold Italic
Get some good vibes in your life by subscribing to The Bold Italic. It's the sister project to GrowSF which focuses on what makes San Francisco a great place to live.